£15.00
Tickets have all now sold. This event is full. No spare tickets on the door unless you're on the door list. Sorry.
Also, check out the 1st Oct Stand-up Comedy Show, featuring Lewis Shaffer, Frank Sanazi, Geoff Buys Cars and live music.
Out of stock
Stand-up Comedy Show at The Barnyard Comedy Club
Sunday the 3rd September 2023
This is an uncensored and awake adult stand-up comedy show. Expect hilarious, free-thinking, edgy, risk-taking, unwoke and thought-provoking gags and routines.
The Barnyard Comedy Club is hosted at Upton Barn, Manor Farm, Near Nuneaton Warwickshire CV13 6JX.
The doors open at 2pm, the live show starts at 4pm and ends around 7pm, the bar is usually open to gone 9.30pm.
TICKETS are available to buy here online and from Joey's Bar at Upton Barn, cash or card. If you prefer cash – use our contact form to ask us to reserve 'cash on the door' tickets for you.
Featuring
Andrew Lawrence – comedian
Chris McGlade – comedian
Richard Vobes – guest speaker
MC Ruth – compere
Rob Dragonfly – guest speaker
Dominic Crane – music performer
Enjoy a fun-packed late afternoon of top-notch edgy adult stand-up comedy, party music and guest speakers. There will be hot food available outside, and lastly but not least there's a licensed bar inside the show hall stocked with a good range of drinks, including real ale if you have a beard.
Upton Barn is a large converted barn and cow shed with a proper floor (no longer straw) a performance stage, tables, chairs, licensed bar (Joey's Bar) and a snooker table. It has a max capacity of 200 people inside and 8 billion outside. Free car park onsite. See photos below.
If you wish to stay over and enjoy the country air and cow methane for longer, there's a caravan, campervan and tent site on the land adjacent. You can book pitches with or without electricity points direct with the Upton Barns Management (tel: 01455 212374 – answered 10.30am – 4.30pm) and arrive early to setup. There's also a few B&B rooms available. Pitch booking info and prices are on Upton Barn's website uptonbarn.co.uk.
Altogether, The Barnyard Comedy Club offers an excellent way to spend your late Sunday afternoon.
Also, check out the 1st Oct Stand-up Comedy Show, featuring Lewis Shaffer, Frank Sanazi, guest speakers and live music.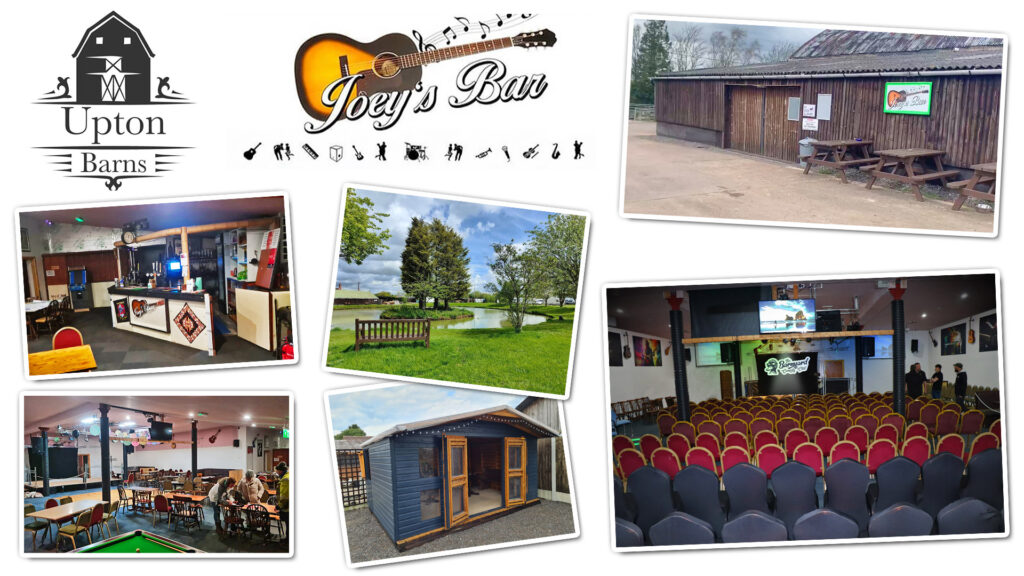 Richard Vobes
YouTuber Richard Vobes joins us as a guest speaker with a light-hearted talk on rabbit holes and joining the dots of what on earth is going on right now. Initially Richard made videos about his passion for exploring English heritage, landscape and nature.
Over the last year or so Richard's YouTube channel really took off, soon rocketing to over 30 million views of his very clever, witty and gentle monologues and interviews. He tends to focus on creating awareness of and solutions to the current set of challenges thrust upon us by creeping totalitarianism.
Abi Roberts
Abi Roberts was going to be performing at this event but has unfortunately decided to pull out of all live performances for the time being. Replaced with the excellent Chris McGlade
Andrew Lawrence
Renowned for his witty views of contemporary social issues and biting satirical commentary on modern life, double Edinburgh Comedy Award nominee and acclaimed British stand-up comedian Andrew Lawrence has expertly dealt with cancel culture and censorship by getting on YouTube.
Having once been a regular on BBC1's 'Live at the Apollo' comedy show and ITV's Michael McIntyre's Road Show, he's now a prolific YouTube content creator and social commentator with over 30million views and 100 thousand subscribers, providing a much-needed contrast to the left-leaning perspectives dominant in much of the comedy world.
Expect an evening of brutal yet hilarious jokes and routines that steer clear of preachy social justice hyperbola – as well as a complete lack of political correctness! In 2016, Sky Arts aired a documentary about him entitled The Outcast Comic.
"Master of dark humour and a political provocateur" British Comedy Guide
"Andrew Lawrence is superbly intelligent, highly articulate and deeply sour" The Spectator
"His show is funny. Lawrence's material is dark and deeply self-deprecating, bitter and somehow managing to be both biting and tongue in cheek, which is difficult to do without drawing blood." The Scotsman
Chris McGlade
Hailing from Redcar in Teesside Chris McGlade started learning his trade in the working mens clubs of the North East 26 years ago. Subsquently he's also performed at the Comedy Store in Hollywood & at the Victoria Palace Theatre in London's West End where he had a leading roll in Billy Elliot the musical.
His critically acclaimed show 'Forgiveness' went on a full UK tour in 2022 which resulted in him getting 20 standing ovations from 26 performances.
"It's changed peoples lives, set people on the road to forgiveness themselves, brought down barriers of race, religion and most importantly I feel, class. Working class and middle class people have been brought together at a time when the country has never been more divided." 'An electrifying performance of naked honesty.' Three Weeks, 'Big, old-fashioned, belly-laughs… a unique comedy voice.' The Scotsman, 'Forgiveness is a masterclass in confessional comedy.' The Telegraph.
Chris has done many extraordinary things in support of the people and our fundamental rights, particularly the oppression of the working class. He speaks out against encroaching globalism, cultural Marxism and political correctness. Famed for writing the long poem "The Right To Hate" which you can see him recite in the video below.
---
Terms and Conditions
The management reserves the right to make essential changes to the published program or listings.
Bookings, once made, may not be exchanged nor money refunded. All ticket sales are final. SEE INFO
ID may be required.
The management reserves the right to refuse admission, for example customers who arrive already intoxicated will be refused entry without a refund.
We reserve the right to conduct bag and clothing searches. Anyone found attempting to bring alcohol or prohibited drugs into the buildings will also be refused entry without a refund.
Latecomers may not be admitted until a suitable break in the performance.
All tickets sold are unallocated seats in the venue. We recommend large groups to arrive early to get seats together and cannot guarantee seats together for groups or parties.
All customers are expected to treat the venue, staff and acts with due respect and good manners.
We reserve the right to eject any customers from the venue without a refund if they are disrupting any of the shows or performances and/or are deemed aggressive, either verbally or physically, to any of our staff, customers or comedians.
The use of mobile phones is prohibited whilst an act is performing, that includes having it in your hand with the screen on (it distracts others from fully enjoying the show).
Audio or visual recording of any kind is forbidden in the show building. Please note that you may be filmed by the organisers, and video, photos and audio may be used on social media and websites to promote future events. By entering the venue, you hereby consent to all such filming and restricted transmissions of any resulting programme or marketing material.
When you buy a ticket you will automatically be added to The Barnyard Club's email list for news, future events, etc. When you get a newsletter, you can decide to click a link and unsubscribe.