£15.00
P&P is only £1 per order. Tickets sent by 2nd class post.
Enjoy a fun-packed late afternoon of hilarious, free-thinking, risk-taking, unwoke adult stand-up comedy, live party music, thought-provoking guest speakers, networking, socialising, food and drink. Over 18s only.
In stock
The Barnyard Comedy Club – live comedy, talks & music
Sunday 3rd December 23
The Barnyard Comedy Club is hosted at Upton Barn, Manor Farm, Near Nuneaton Warwickshire CV13 6JX.
Doors open 2pm, live show starts at 3.55pm and ends around 7.30pm, bar open to gone 9pm.
TICKETS: available to buy here online and from Joey's Bar at Upton Barn (cash or card). If you prefer cash – use our contact form to ask us to reserve 'cash on the door' tickets for you.
Featuring
Sean Meo – stand-up comedian
Abi Roberts – stand-up comedian
Jonny Cole – music comedy
Carl Vernon – writer, social commentator, YouTuber
Feargus O'Connor Greenwood – writer
MC Ruth
DJ Devlin
Upton Barn is a large converted barn and cow shed, with a proper floor (no longer straw) a performance stage, tables, chairs, licensed bar (Joey's Bar) and a snooker table. It has a max capacity of 200 people inside and 8 billion outside. There will be hot food available outside and a licensed bar inside. Free car park onsite. See photos below.
If you wish to stay over and enjoy the country air there's a caravan, campervan and tent site on the land adjacent. You can book pitches with or without electricity points direct with the Upton Barns Management (Tel: 01455 212374 – answered 10.30am – 4.30pm) and arrive early to setup. There's also a few B&B rooms available. Pitch booking info and prices are on their website HERE.
Altogether, The Barnyard Comedy Club offers an excellent way to spend your late Sunday afternoon if you're a critical-thinker questioning official narratives, and up for a good belly laugh, some socialising and entertaining music.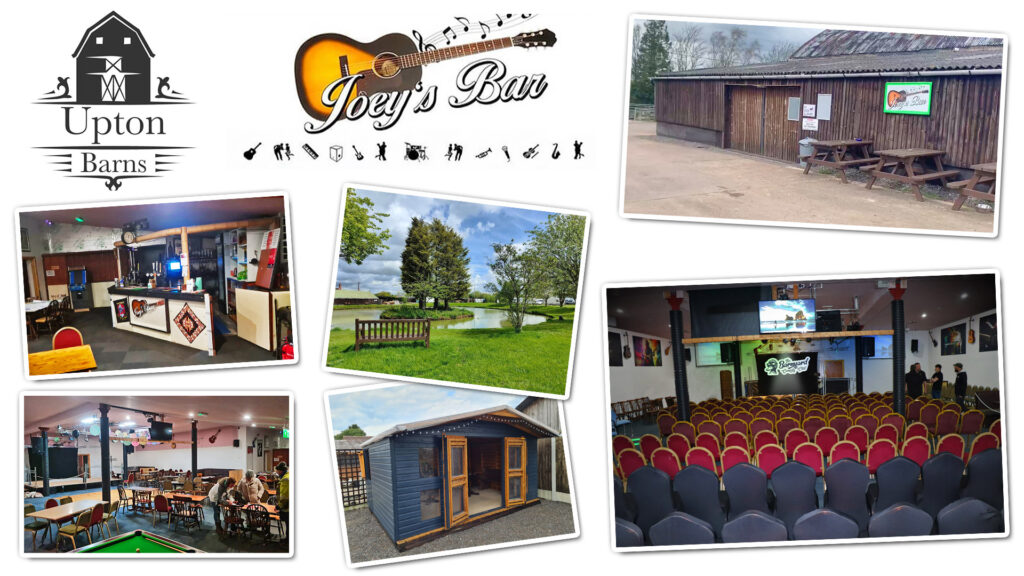 Sean Meo
Since being named Comedian Of The Year by Time Out magazine in 1997 Sean Meo has been performing all over the world. Before that, he had been a full-time snooker player. Sean is widely acknowledged as one of the finest performers and writers on the UK comedy circuit.
Sean genuinely relishes the challenge of tailoring his material to specific events and playing to audiences that often have very different demands to those of the Comedy Store and Jongleurs. His ability to work "clean" as well as edgy sets him apart from the vast majority of his contemporaries on the "alternative" circuit.
From hosting The Max Power Awards, to performing to thousands on open air stages at Brands Hatch and Oulton Park, Sean Meo is one of the most versatile and experienced "corporate" comedians in the UK.
Sean has made several appearances at the prestigious Montreal Comedy Festival and has featured at other comedy festivals, including Melbourne, New Zealand, Kilkenny, Edinburgh, Singapore and South Africa. He has also worked extensively in US locations such as San Francisco, New York and Las Vegas.
His numerous TV appearances include The Stand Up Show (BBC One), Tonight at the London Palladium (ITV), The Clive James Show (ITV), The Comedy Store (Channel 5), The World Stands Up (Paramount Comedy), The 11 O'Clock Show (Channel 4) and They Think It's All Over (BBC One).
Abi Roberts
Abi Roberts is a very funny Welsh stand-up comedian and social and political commentator. Since 2007, she's been putting audiences in stitches touring the UK, working the circuit, Edinburgh Fringe, The Vagina Monologues, even GB News. In 2016, Abi became the first UK comedian to perform in Russia, and in Russian!
Carl Vernon
Carl Vernon is an international bestselling author, YouTuber and social commentator. Carl writes books on the subjects he's most passionate about. His books are sold internationally and have been translated into 15 languages, with his #1 bestseller 'Anxiety Rebalance' reaching the top 10 of all books on Amazon. Other titles he's written are Surrounded by Morons, The Massive Advantages of Dealing With Assholes, and You Care Too Much.
With over 200 million video views, Carl was right out there back in 2020 and before, questioning government-sanctioned phycological propaganda and covid era nonsense. These days his video monologues cover every subject under the sun. Check him out >>
Carl Vernon YouTube channel |  Carlvernon.com
Jonny Cole
Jonny is back again to do some more of his high-acclaimed "Stone Cole Sober" show to the Barnyard Comedy Club. Champion of the Black Country, Jonny Cole has been dubbed one of the most exciting and hilariously funny stand-up comedy acts to come out of The Midlands and an unstoppable force in music-comedy.
What started with a song about his home town of Wednesbury that went viral, Jonny Cole is now packing out comedy clubs and venues everywhere. With his individual patter and commentary on life, coupled with his original songs, Jonny Cole has been described as a 'breath of fresh air'.
Since giving up his day job, Jonny Cole has played to various sell-out audiences, shared the stage with the likes of Ross Noble, Mark Watson and Joe Lycett and taken his act to festivals all over Britain. Including a sell-out show at the Edinburgh Fringe Festival. Jonny Cole was the headline act on the UK tour of 'A Black Country Night Out' for 4 years and a regular finalist for the 'Best Midlands Comedian' award by WHATS ON magazine.
Feargus O'Connor Greenwood
Feargus's talk for this event is titled "Help! My government's turned into a psychopath"
We live in a satanically inverted society where if you want the truth about anything, if might want to take most of whatever is pushed by mainstream and establishment sources and flip it completely on its head. Feargus Greenwood goes into great depth on this whole dynamic in his his monumental new book 180˚
In this book he covers the lies, gaslighting and military-grade psychological techniques used by governments and mainstream media for decades to traumatise and mind-control the general population. Once the methods are known, they'll never work in the same way again.
Stop for a moment and take a look at the world around you. Does everything seem normal? Or is it all upside down? Do you think this is happening just by chance? And if it isn't, wouldn't you like to know what is really going on?
To get back to the truth we need to invert the inversions. 180° is not just an angle, it is an answer; a total perspective and a set of solutions. No one said getting to The Golden Age was going to be easy. That journey begins with questioning everything you have been taught to believe.
---
Terms and Conditions
The management reserves the right to make essential changes to the published program or listings.
Bookings, once made, may not be exchanged nor money refunded. All ticket sales are final. SEE INFO
ID may be required.
The management reserves the right to refuse admission, for example customers who arrive already intoxicated will be refused entry without a refund.
We reserve the right to conduct bag and clothing searches. Anyone found attempting to bring alcohol or prohibited drugs into the buildings will also be refused entry without a refund.
Latecomers may not be admitted until a suitable break in the performance.
All tickets sold are unallocated seats in the venue. We recommend large groups to arrive early to get seats together and cannot guarantee seats together for groups or parties.
All customers are expected to treat the venue, staff and acts with due respect and good manners.
We reserve the right to eject any customers from the venue without a refund if they are disrupting any of the shows or performances and/or are deemed aggressive, either verbally or physically, to any of our staff, customers or comedians.
The use of mobile phones is prohibited whilst an act is performing, that includes having it in your hand with the screen on (it distracts others from fully enjoying the show).
Audio or visual recording of any kind is forbidden in the show building. Please note that you may be filmed by the organisers, and video, photos and audio may be used on social media and websites to promote future events. By entering the venue, you hereby consent to all such filming and restricted transmissions of any resulting programme or marketing material.
When you buy a ticket you will automatically be added to The Barnyard Club's email list for news, future events, etc. When you get a newsletter, you can decide to click a link and unsubscribe.