£15.00
This event has now ended. We had a full-house with over 160 tickets sold! An outstanding afternoon, thank you all that attended and performed. Excellent feedback. Get your tickets for our next events. 
Out of stock
Stand-up Comedy Show at The Barnyard Comedy Club
Sunday the 30th July 2023
This is an uncensored and awake adult stand-up comedy show. Expect hilarious, free-thinking, edgy, risk-taking, unwoke and thought-provoking gags and routines.
The Barnyard Comedy Club is hosted at Upton Barn, Manor Farm, Near Nuneaton Warwickshire CV13 6JX.
Doors open 2pm, live show starts at 4pm and ends around 7pm, bar open to gone 9pm.
TICKETS: available to buy here online and from Joey's Bar at Upton Barn (cash or card). If you prefer cash – use our contact form to ask us to reserve 'cash on the door' tickets for you.
Featuring
Steve Hughes – comedian
Nicholas De Santo – comedian
Ella – live music performer/vocalist
The People's Lawyer – Guest speaker
Enjoy a fun-packed late afternoon of top-notch edgy adult stand-up comedy, party music and guest speaker. There will be hot food available outside and lastly but not least there's a licensed bar inside the show hall stocked with a good range of drinks, including real ale if you have a beard.
Upton Barn is a large converted barn and cow shed, with a proper floor (no longer straw) a performance stage, tables, chairs, licensed bar (Joey's Bar) and a snooker table. It has a max capacity of 200 people inside and 8 billion outside. Free car park onsite. See photos below.
If you wish to stay over and enjoy the country air and cow methane for longer there's a caravan, campervan and tent site on the land adjacent. You can book pitches with or without electricity points direct with the Upton Barns Management (Tel: 01455 212374 – answered 10.30am – 4.30pm) and arrive early to setup. There's also a few B&B rooms available. Pitch booking info and prices are on their website HERE.
Altogether, The Barnyard Comedy Club offers an excellent way to spend your late Sunday afternoon.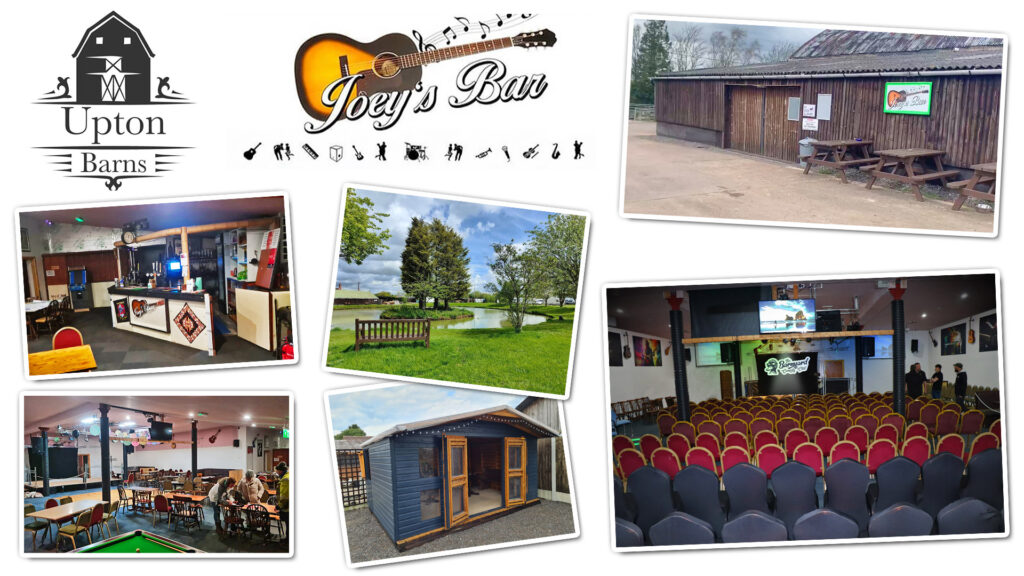 Steve Hughes
International stand-up comedian and 'conspiracy realist' Steve Hughes is currently on tour with his 2023 show 'Tough Love' and he brings us a 45 min version of the best bits. Australian born Hughes started his stand-up career in 1990, moved to England in 2002 and has toured and has been on TV (Live At The Apollo, etc) ever since. Having been influenced by the likes of Bill Hicks, Richard Pryor, Dave Allen, George Carlin and Eddie Murphy, you can expect hilarious satire, social commentary and his take on the state of the world and political issues.
Nicholas De Santo
Nicholas De Santo is an Italian/Iranian conservative stand-up comedian. He challenges the old hat Guardian reading comedian stereotype with fun but right-leaning comedy, counter-culture comedy and political satire.
He's free-thinking, pro-life and unafraid to tackle controversial subjects, which led him to be banned from performing at some of his favourite comedy clubs. "It's promoters and agents who are the most censorious. They fear complaints. But they sometimes underestimate audiences, who often want refreshing viewpoints." "…white liberals object to my jokes about Obama's disastrous foreign policies or Islam religion of peace. Punters who have lived in the Middle East or Eastern Europe share my concerns and get the jokes." Half of the country has switched off from political-correctness and they don't care anymore… Nicholas De Santo entertains that half, and very well.
In 2019 he was a New Act of the Year (NATYS) finalist at Hackney Empire and in 2020 the Spectator recommended him as one of the best unwoke comics to watch.
This year, after a video of his pro-life set in London went viral on YouTube (700k views), the American Mind publication featured him as the only comedian with an entirely pro-life routine.
A former BBC journalist, Nicholas now performs his right-leaning satirical Fake News bulletin and has appeared on GB News show Headliners.
---
Terms and Conditions
The management reserves the right to make essential changes to the published program or listings.
Bookings, once made, may not be exchanged nor money refunded. All ticket sales are final. SEE INFO
ID may be required.
The management reserves the right to refuse admission, for example customers who arrive already intoxicated will be refused entry without a refund.
We reserve the right to conduct bag and clothing searches. Anyone found attempting to bring alcohol or prohibited drugs into the buildings will also be refused entry without a refund.
Latecomers may not be admitted until a suitable break in the performance.
All tickets sold are unallocated seats in the venue. We recommend large groups to arrive early to get seats together and cannot guarantee seats together for groups or parties.
All customers are expected to treat the venue, staff and acts with due respect and good manners.
We reserve the right to eject any customers from the venue without a refund if they are disrupting any of the shows or performances and/or are deemed aggressive, either verbally or physically, to any of our staff, customers or comedians.
The use of mobile phones is prohibited whilst an act is performing, that includes having it in your hand with the screen on (it distracts others from fully enjoying the show).
Audio or visual recording of any kind is forbidden in the show building. Please note that you may be filmed by the organisers, and video, photos and audio may be used on social media and websites to promote future events. By entering the venue, you hereby consent to all such filming and restricted transmissions of any resulting programme or marketing material.
When you buy a ticket you will automatically be added to The Barnyard Club's email list for news, future events, etc. When you get a newsletter, you can decide to click a link and unsubscribe.