£15.00
This event has now ended. An excellent afternoon, thank you all that attended and performed. Get your tickets for our next events.
Enjoy a fun-packed late afternoon of hilarious, free-thinking, risk-taking, unwoke adult stand-up comedy, live party music, thought-provoking guest speakers, networking, socialising, food and drink. Over 18s only.
Out of stock
The Barnyard Comedy Club – live comedy, talks and music
Sunday 1st October 2023
The Barnyard Comedy Club is hosted at Upton Barn, Manor Farm, Near Nuneaton Warwickshire CV13 6JX.
Doors open 2pm, live show starts at 4pm and ends around 7pm, bar open to gone 9pm.
TICKETS are available to buy here online and from Joey's Bar at Upton Barn, cash or card. If you prefer cash – use our contact form to ask us to reserve 'cash on the door' tickets for you.
Featuring
Lewis Schaffer – stand-up comedian
Frank Sanazi – stand-up comedian/music comedy
Elvis Corpseley – music comedy
Geoff Buys Cars – guest speaker & YouTuber
Ian Scott – live music performer/vocalist
MC Sammy
(Chris Sky was meant to be putting in an appearance but got stuck in traffic in London)
Enjoy a fun-packed late afternoon of top-notch edgy adult stand-up comedy, live music and guest speakers. There will be hot food available outside and a licensed bar inside.
Upton Barn is a large converted barn and cow shed, with a proper floor (no longer straw) a performance stage, tables, chairs, licensed bar (Joey's Bar) and a snooker table. It has a max capacity of 200 people inside and 8 billion outside. Free car park onsite. See photos below.
If you wish to stay over and enjoy the country air for longer there's a caravan, campervan and tent site on the land adjacent. You can book pitches with or without electricity points direct with the Upton Barns Management (Tel: 01455 212374 – answered 10.30am – 4.30pm) and arrive early to setup. There's also a few B&B rooms available. Pitch booking info and prices are on Upton Barn's website uptonbarn.co.uk.
Altogether, The Barnyard Comedy Club offers an excellent way to spend your late Sunday afternoon if you're a critical-thinker questioning official narratives, and up for a good belly laugh, some socialising and entertaining music.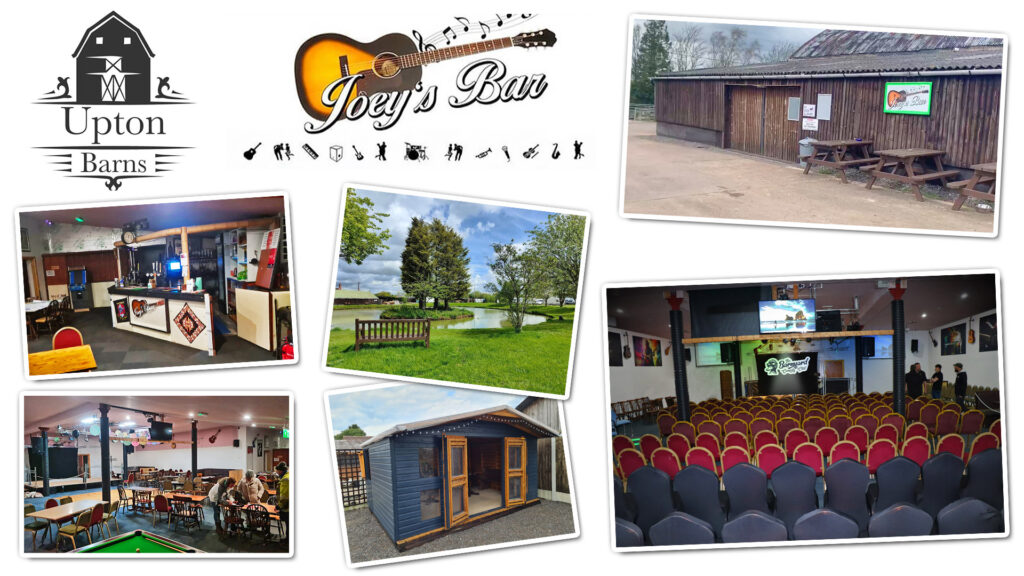 Lewis Schaffer
Lewis Schaffer was a top comic in New York, as house MC at The Comedy Cellar and The Boston Comedy Clubs in Greenwich Village. However, his success and happiness was abruptly cut short, when a brief visit to London in 2000 went very wrong. Love, marriage and children, divorce, misery, crippling financial hardship, an emotional breakdown and tremendous heartache. ​​Currently trapped in a multi-occupancy council flat South London, Lewis Schaffer is making the worst of a bad situation, but making us all laugh along with him.
Not content with simply being an hilarious and controversial stand-up comedian, Lewis Schaffer has turned his hand to television. ​A beloved regular on the popular GB News show, Headliners, you will see him on the panel giving a very different take on current affairs.
You will also occasionally see Lewis Schaffer as a guest on Free Speech Nation, a show hosted by Andrew Doyle – where he interviews fantastic guests, has intellectual discussions, gives incredibly articulate monologues, and controls Lewis Schaffer. Lewis is also a regular at the Comedy Unleashed club.
Frank Sanazi
Frank Sanazi ze Ubermeister of Lounge, and Leader of The Iraq Pack, is ordering you to enter his World of Extreme Cabaret, bringing New Order and discipline to the usually more relaxed swing scene. Listen to swing classics twisted into an unbelievable dark mix of Weimar and Uneasy Listening together with his Blitzreig of comedy means you will certainly feel under attack.
As the name suggests Sanazi is an unnerving comedic mix of the singing legend Frank Sinatra and the infamous dictator Adolf Hitler, poking fun at history's most famous German dictator through a mixture of puns, slapstick, and musical numbers.
With mockery of dictatorship and Nazism, Frank reworks The Rat Packs classics with his own extreme renditions, which he calls "Uneasy listening". These hilarious numbers include such hits as "Third Reich", "Strangers on my Flight" and "Zieg Heil with Me." But, rest assured, Frank is not a Hitler tribute act!
Frank has performed all around the world, from Australia and Switzerland to Israel, including an emotional return visit and performances in Austria and Berlin. A firm favourite at festivals, Frank performs regularly at Glastonbury and Bestival, as well as the Fringe festivals in Edinburgh, Glasgow, Galway and Brighton where his shows have been highly acclaimed by the press.
Frank has 2 albums available: "Meinway on a Steinway" and "Songs for Swinging Leaders" which have all been enthusiastically received by his adoring fans (however his "White Christmas" album hasn't sold as well).
"Initially shocking, this is actually a highly clever satire of the far right" Galway Advertiser
"A true original… I laughed out loud at this show" Brighton & Hove News
"It's all brilliantly stupid, fantastically wrong and ridiculously funny" **** The Scotsman
"He will leave you in stitches. The Jokes are relentless" Edinburgh Festivals Magazine
"A blitzkrieg attack on taste and decency, Das Vegas Night 3 was a delight." The Edinburgh Reporter
"A very entertaining if UN-PC show and I loved it" ***** Black Diamond (107.8FM)
Elvis Corpseley
Elvis Corpseley is a favourite on the cabaret scene, always in demand at Halloween time. With comedic reworded Elvis hits performed with over-the-top but authentic Elvis vocals and replica Vegas costume you will be delighted to hear that Elvis is back from the dead! The show includes such classics as "I'm All Dug Up" and "Burgers Went Straight to My Heart".
Geoff Buys Cars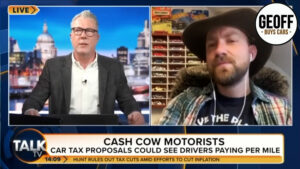 YouTuber Geoff Thompson was unable to speak at our 2nd July Show (as advertised), but we are glad to announce that he'll now be our guest speaker for the 1st Oct show. Geoff has an excellent channel called Geoff Buys Cars. With over 8m views on this YouTube channel Geoff has more recently been highlighting various motoring issues and what's wrong with the world right now – the constant attack on motorists, creeping totalitarianism, corruption everywhere, broken politics, etc. Check out Geoff Buys Cars YouTube channel.
Ian Scott
We're proud to announce that Ian will be performing a 25 min set of mixed covers for us this Sunday (not a tribute show). Typically Ian thrills audiences all around the UK with his superb double bill tribute to Neil Diamond and Tom Jones. Ian's magnificent voice re-creates the emotion, excitement and passion of Diamond and Jones's songs. Contact us if you would like to book him for your venue, party or event.
"The best of all the tribute shows we've had at the Dilmun. Ian had everyone on their feet. The feedback from the club members has been tremendous. His performance as a Tom Jones and Neil Diamond tribute was truly amazing". J Silverthorne, The Dilmun Club Bahrain.
---
Terms and Conditions
The management reserves the right to make essential changes to the published program or listings.
Bookings, once made, may not be exchanged nor money refunded. All ticket sales are final. SEE INFO
ID may be required.
The management reserves the right to refuse admission, for example customers who arrive already intoxicated will be refused entry without a refund.
We reserve the right to conduct bag and clothing searches. Anyone found attempting to bring alcohol or prohibited drugs into the buildings will also be refused entry without a refund.
Latecomers may not be admitted until a suitable break in the performance.
All tickets sold are unallocated seats in the venue. We recommend large groups to arrive early to get seats together and cannot guarantee seats together for groups or parties.
All customers are expected to treat the venue, staff and acts with due respect and good manners.
We reserve the right to eject any customers from the venue without a refund if they are disrupting any of the shows or performances and/or are deemed aggressive, either verbally or physically, to any of our staff, customers or comedians.
The use of mobile phones is prohibited whilst an act is performing, that includes having it in your hand with the screen on (it distracts others from fully enjoying the show).
Audio or visual recording of any kind is forbidden in the show building. Please note that you may be filmed by the organisers, and video, photos and audio may be used on social media and websites to promote future events. By entering the venue, you hereby consent to all such filming and restricted transmissions of any resulting programme or marketing material.
When you buy a ticket you will automatically be added to The Barnyard Club's email list for news, future events, etc. When you get a newsletter, you can decide to click a link and unsubscribe.