£15.00
P&P is only £1 per order. Tickets sent by 2nd class post.
Enjoy a fun-packed late afternoon of hilarious, free-thinking, risk-taking, unwoke adult stand-up comedy, live party music, thought-provoking guest speakers, networking, socialising, food and drink. Over 18s only.
In stock
The Barnyard Comedy Club – live comedy, talks & music
Sunday 7th April 2024
The Barnyard Comedy Club is hosted at Upton Barn, Manor Farm, Near Nuneaton Warwickshire CV13 6JX.
Doors open 2pm, live show starts at 3.55pm and ends around 7.30pm, bar open to gone 9pm.
TICKETS: available to buy here online. If you prefer cash – please use our contact form to ask us to reserve 'cash on the door' tickets for you.
Featuring
Andrew Lawrence – stand-up comedian
Geoff Buys Cars – guest speaker & YouTuber
Rob Dragonfly – guest speaker
All other comedians, performers, speakers and musicians to be announced
Upton Barn is a large converted barn and cow shed, with a proper floor (no longer straw) a performance stage, tables, chairs, licensed bar (Joey's Bar) and a snooker table. It has a max capacity of 200 people inside and 8 billion outside. There will be hot food available outside and a licensed bar inside. Free car park onsite. See photos below.
If you wish to stay over and enjoy the country air there's a caravan, campervan and tent site on the land adjacent. You can book pitches with or without electricity points direct with the Upton Barns Management (Tel: 01455 212374 – answered 10.30am – 4.30pm) and arrive early to setup. There's also a few B&B rooms available. Pitch booking info and prices are on their website HERE.
Altogether, The Barnyard Comedy Club offers an excellent way to spend your late Sunday afternoon if you're a critical-thinker questioning official narratives, and up for a good belly laugh, some socialising and entertaining music.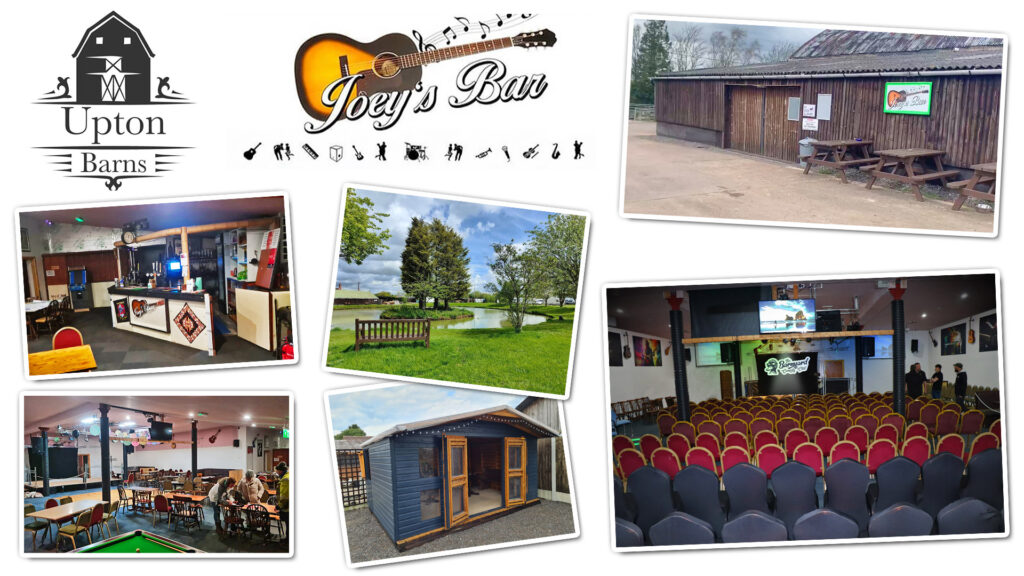 ---
Terms and Conditions
The management reserves the right to make essential changes to the published program or listings.
Bookings, once made, may not be exchanged nor money refunded. All ticket sales are final. SEE INFO
ID may be required.
The management reserves the right to refuse admission, for example customers who arrive already intoxicated will be refused entry without a refund.
We reserve the right to conduct bag and clothing searches. Anyone found attempting to bring alcohol or prohibited drugs into the buildings will also be refused entry without a refund.
Latecomers may not be admitted until a suitable break in the performance.
All tickets sold are unallocated seats in the venue. We recommend large groups to arrive early to get seats together and cannot guarantee seats together for groups or parties.
All customers are expected to treat the venue, staff and acts with due respect and good manners.
We reserve the right to eject any customers from the venue without a refund if they are disrupting any of the shows or performances and/or are deemed aggressive, either verbally or physically, to any of our staff, customers or comedians.
The use of mobile phones is prohibited whilst an act is performing, that includes having it in your hand with the screen on (it distracts others from fully enjoying the show).
Audio or visual recording of any kind is forbidden in the show building. Please note that you may be filmed by the organisers, and video, photos and audio may be used on social media and websites to promote future events. By entering the venue, you hereby consent to all such filming and restricted transmissions of any resulting programme or marketing material.
When you buy a ticket you will automatically be added to The Barnyard Club's email list for news, future events, etc. When you get a newsletter, you can decide to click a link and unsubscribe.