£15.00
P&P is only £1 per order. Tickets sent by 2nd class post.
Enjoy a fun-packed late afternoon of hilarious, free-thinking, risk-taking, unwoke adult stand-up comedy, live party music, thought-provoking guest speakers, networking, socialising, food and drink. Over 18s only.
In stock
The Barnyard Comedy Club – live comedy, talks & music
Sunday 4th Feb 2024
The Barnyard Comedy Club is hosted at Upton Barn, Manor Farm, Near Nuneaton Warwickshire CV13 6JX.
Doors open 2pm, live show starts at 3.55pm and ends around 7.30pm, bar open to gone 9pm.
TICKETS: available to buy here online and from Joey's Bar at Upton Barn (cash or card). If you prefer cash – use our contact form to ask us to reserve 'cash on the door' tickets for you.
Featuring
Josh Howie – Stand-up comedian and comedy writer
Junior Booker – Stand-up comedian
Graham Linehan – Comedy writer (Father Ted, The IT Crowd, Brass Eye, The Fast Show. Has won five BAFTA awards)
All other comedians, performers, speakers and musicians to be announced
Upton Barn is a large converted barn and cow shed, with a proper floor (no longer straw) a performance stage, tables, chairs, licensed bar (Joey's Bar) and a snooker table. It has a max capacity of 200 people inside and 8 billion outside. There will be hot food available outside and a licensed bar inside. Free car park onsite. See photos below.
If you wish to stay over and enjoy the country air there's a caravan, campervan and tent site on the land adjacent. You can book pitches with or without electricity points direct with the Upton Barns Management (Tel: 01455 212374 – answered 10.30am – 4.30pm) and arrive early to setup. There's also a few B&B rooms available. Pitch booking info and prices are on their website HERE.
Altogether, The Barnyard Comedy Club offers an excellent way to spend your late Sunday afternoon if you're a critical-thinker questioning official narratives, and up for a good belly laugh, some socialising and entertaining music.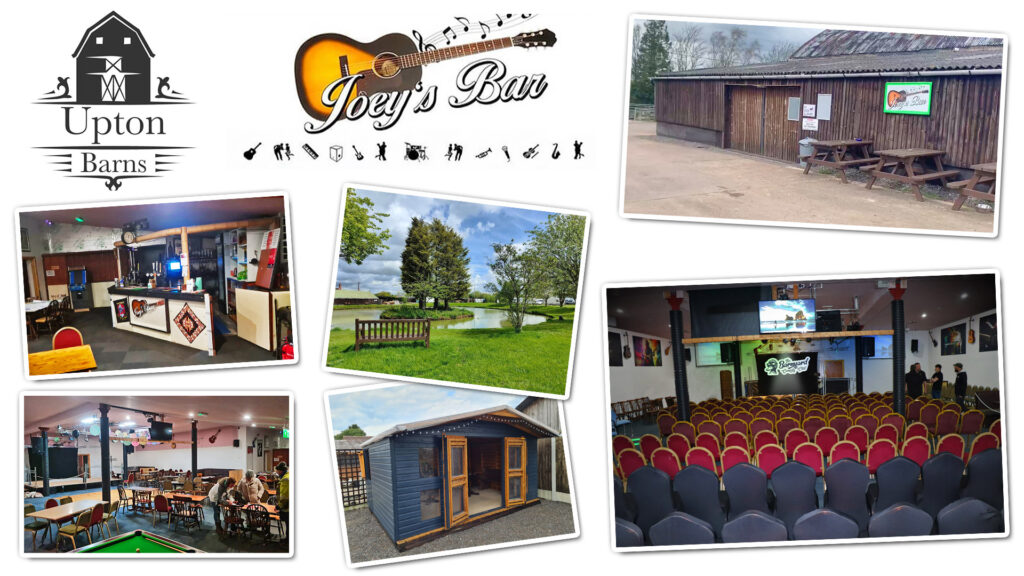 Graham Linehan
Graham is a highly-talented and award-winning comedy writer – e.g. Father Ted, The IT Crowd (writer and Director), Brass Eye, The Fast Show. He has won five BAFTA awards including best comedy writer for the IT Crowd in 2014, and Father Ted won BAFTA awards for Best Comedy in 1996 and 1999. Linehan's memoir, Tough Crowd: How I Made and Lost a Career in Comedy, was published in October 2023. You can buy Tough Crowd direct from Eye Books the publishers HERE
Junior Booker
South London based comedian, Junior Booker has been taking his hilarious stand-up routines all over the country. Expect a mixture of quick witted, laid back and gritty street comedy from this up-and-coming charismatic and talented comic.
Josh Howie
Stand-up comedian and comedy writer Josh Howie has been performing regularly at all the major comedy clubs around the UK. In the past Josh has also taken his distinctive brand of humour to India, Ireland, UAE, France, China, Thailand, Switzerland, Finland, Estonia and America. In 2012, he was invited to perform at the prestigious Just for Laugh's comedy festival in Montreal, where he filmed the internationally distributed Just For Laugh's All Access TV show.
A fabulous storyteller who can make you concentrate in silence then erupt into a fit of giggles. He's slick, he's quick and he's incredibly playful with words.★★★★★ Metro
Josh Howie walks the potentially trip-wired ground of race and religious identity with diamond-sharp wit and no small degree of daring. It's fiercely intelligent, delivered with verve and you can expect to see a lot more of Howie in the future. The Observer
Great things are expected from the abrasive yet strangely lovable Josh Howie. The Guardian
Howie is an intelligent comedian who knows how to amuse, shock and move an audience in equal measures. Time Out
It's refreshing to see someone like Howie tell a wider story about his life while taking comic opportunities at every turn. ★★★★ Independent
Howie is mining half-remembered fears and turning them into the building blocks of an excellent show. The Guardian
---
Terms and Conditions
The management reserves the right to make essential changes to the published program or listings.
Bookings, once made, may not be exchanged nor money refunded. All ticket sales are final. SEE INFO
ID may be required.
The management reserves the right to refuse admission, for example customers who arrive already intoxicated will be refused entry without a refund.
We reserve the right to conduct bag and clothing searches. Anyone found attempting to bring alcohol or prohibited drugs into the buildings will also be refused entry without a refund.
Latecomers may not be admitted until a suitable break in the performance.
All tickets sold are unallocated seats in the venue. We recommend large groups to arrive early to get seats together and cannot guarantee seats together for groups or parties.
All customers are expected to treat the venue, staff and acts with due respect and good manners.
We reserve the right to eject any customers from the venue without a refund if they are disrupting any of the shows or performances and/or are deemed aggressive, either verbally or physically, to any of our staff, customers or comedians.
The use of mobile phones is prohibited whilst an act is performing, that includes having it in your hand with the screen on (it distracts others from fully enjoying the show).
Audio or visual recording of any kind is forbidden in the show building. Please note that you may be filmed by the organisers, and video, photos and audio may be used on social media and websites to promote future events. By entering the venue, you hereby consent to all such filming and restricted transmissions of any resulting programme or marketing material.
When you buy a ticket you will automatically be added to The Barnyard Club's email list for news, future events, etc. When you get a newsletter, you can decide to click a link and unsubscribe.