Harry Rhodes presents… Health & Technology Talk
Sunday the 19th Nov 2023 – 9.30am onwards
Upton Barn, Manor Farm, Near Nuneaton Warwickshire CV13 6JX
The doors open from 9.30am. The speaking event starts at 10am, runs to approx. noon, venue is open all afternoon. 
TICKETS are available to buy here online, or if you prefer cash – use our contact form to ask us to reserve 'cash on the door' tickets for you.
Harry Rhodes from www.onlyresultscount.com will be talking about Health and Technology, presenting critical life-changing knowledge on science, graphene, Nicola Tesla, etheric energies and live blood testing for clots and vitamin D testing. Plus live demonstrations on energy, toroidal sciences and water memory restructuring.
Harry will be discussing the following subjects with live demonstrations: Neurological detox, digestive re-set, vaccine damage support, light frequency therapy, complete body toxin removal, blood, haemoglobin health, respiratory enhancement, and structured water healing.
The talk runs from 10am to 12 noon and thereafter the scheduled blood tests will be conducted up to the the early evening.
Blood testing onsite
UPDATE: All blood testing appointments onsite on the day are now fully booked. However, you can ask to be put on a waiting list. Text your name with requirements to 07414 885465. Blood test results will be provided on the day. These tests will be done throughout the day and early evening to scheduled appointments only.
Products to purchase
Harry's team will be in attendance to advise on and sell their health products, cash only please.
Food
From 12pm to 1.30pm Sammy and Krissy will have a healthy homemade lunch available consisting of a Vegan Curry (Keto/alkaline) or a beef, winter veg and pumpkin stew served with fresh bread. They will also have homemade cake / vegan yoghurt with compote and nuts and side salad/coleslaw. They are asking for a suggested £10 donation towards food costs, time and effort.
You are most welcome to bring a packed lunch if you wish but drinks must be bought from the venue. They have a good stock of tea, coffee, water, soft drinks and coconut water and a fully licenced bar. If you are feeling hungry later on or prefer not to eat the lunch with us there are several other places to eat – Giovannis (Italian)  or Millars Hotel both within a short distance. There are also Chinese, Indian and pizza restaurants who deliver to the farm.
Book Corner
There will be a book corner with a collection on health topics for you to browse through (to read only, not for sale).
Country Walk and other Talks and Sessions
1.30pm to 2.30pm Jen will be offering sessions in 'Pathogen Balance. Weather permitting, there will be a group country walk from approx 3pm to 4pm, if you would like to go on the walk please bring warm clothes and outside boots. 4.30pm to 5.30pm Krissy will be giving a talk on Shungite.
Yoga, Meditation and Live Music
From approx 6pm to 7pm there will also be a short meditation and a yoga session – so please bring a mat/pillow/ blanket and wear comfortable clothes if you want to participate. We will be closing the day with some happy vibes and good energy with live music from 7pm with vocalist Sammy G.
The venue
Upton Barn is a large converted barn and cow shed with a proper floor (no longer straw) a stage, tables, chairs and bar (Joey's Bar). Food and drinks available to purchase onsite. Free car park onsite. If you wish to stay over and enjoy the country air for longer, there's a caravan, campervan and tent site on the land adjacent. You can book pitches with or without electricity points direct with the Upton Barns Management (tel: 01455 212374 – answered 10.30am – 4.30pm) and arrive early to setup. There's also a few B&B rooms available. Pitch booking info and prices are on Upton Barn's website uptonbarn.co.uk.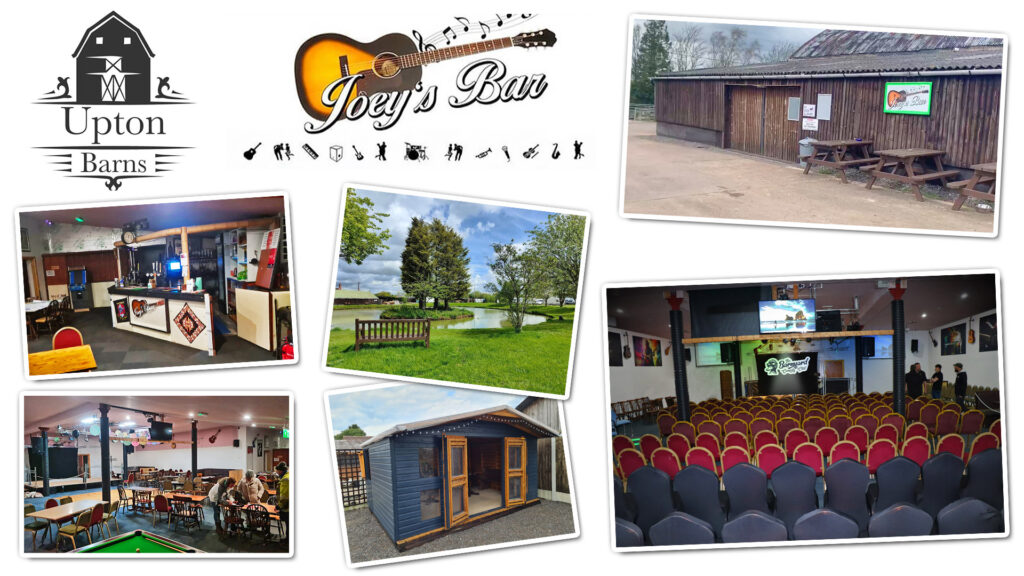 ---
Terms and Conditions
The ticket price does not include food and beverages
If this event is cancelled you will get a full refund if you bought the ticket on tickets.heart-events.co.uk
Bookings, once made, may not be exchanged nor money refunded. All ticket sales are final. SEE INFO
The management reserves the right to refuse admission, for example customers who arrive intoxicated will be refused entry without a refund.
We reserve the right to conduct bag and clothing searches. Anyone found attempting to bring alcohol or prohibited drugs into the buildings will also be refused entry without a refund.
Latecomers may not be admitted until a suitable break in the performance.
All tickets sold are unallocated seats in the venue. We recommend large groups to arrive early to get seats together and cannot guarantee seats together for groups or parties.
All customers are expected to treat the venue, staff and acts with due respect and good manners.
We reserve the right to eject any customers from the venue without a refund if they are disrupting any of the shows and/or are deemed aggressive, either verbally or physically, to any of our staff, other customers, guests or performers.
The use of mobile phones is prohibited whilst a speaker or performer is on stage, that includes having it in your hand with the screen on (it distracts others from fully enjoying the event).