£10.00
25 years in the making, The Keys of the Kingdom Holy Bible is presented by its researcher-translator-writer Christopher Sparkes. This event includes a live talk, Q&A and live music by Ian Scott.
The order processing fee and postage is only £1 per order. Tickets sent by Royal Mail.
In stock
Christopher Sparkes presents his Keys of the Kingdom Holy Bible
Also featuring the powerful singer Ian Scott
As well as singing for us, Ian will be talking about his faith and his book, see further details below.
Sunday the 17th Dec 2023
Upton Barn, Manor Farm, Near Nuneaton Warwickshire CV13 6JX
The doors open from 1pm. The speaking event starts at 3pm, live music from 5.40pm, event ends around 6.30pm.
Christopher Sparkes has spent over 25 years researching, translating and restoring the true history, teachings, wisdom and prophecies received by the prophets and apostles of God and Christ. Intense research from multiple sources and untouched from the bias of any religious assembly, Christopher has restored thousands of passages, including all major themes of the prophets and apostles. The Keys of the Kingdom Holy Bible is the produce of that enormous task and in this speaking event Christopher will talk about the processes used, why he created this new translation and how you may enjoy it. You can buy The Keys of the Kingdom Holy Bible on Christopher's website HERE, and of course they will be available to purchase at this event.
TICKETS are available to buy here online. If you prefer cash – use our contact form to ask us to reserve 'cash on the door' tickets for you.
The venue
Upton Barn is a large converted barn and cow shed with a proper floor (no longer straw) a stage, tables, chairs and bar (Joey's Bar). It has a max capacity of 200 people inside and 8 billion outside. Food and drinks available to purchase onsite. Free car park onsite. If you wish to stay over and enjoy the country air for longer, there's a caravan, campervan and tent site on the land adjacent. You can book pitches with or without electricity points direct with the Upton Barns Management (tel: 01455 212374 – answered 10.30am – 4.30pm) and arrive early to setup. There's also a few B&B rooms available. Pitch booking info and prices are on Upton Barn's website uptonbarn.co.uk.
About Christopher Sparkes
Christopher Sparkes was born in Birmingham in 1951, and lives in Hampshire, England. After lecturing in Higher and Further Education, he is now a freelance educator. He has run writing groups, a folk and poetry club, and managed a trout fishery.
As well as being co-author of textbooks on writing and grammar, he has published poetry, short fiction, academic essays, reviews and artwork. His other interests are cricket, trout fishing, cycling, oil painting, birdwatching, and playing the guitar and harmonica.
In Keys of the Kingdom Holy Bible translation, the paths of old are revived and brought to light once again. It is designed to make Bible reading clear, so that everything is made comprehensible for everybody, and without impediments of archaic language. Subject headings and footnotes and appendices provide guidance and explanations and elucidations, always in mind of giving the witness of God and making everything clear to everybody, especially new students of the word of God.
The new and highly developed organic translation method brings to magnificent light, for the first time in the English language, the whole miracle of the Bible's internal harmony, producing the richest fruits from the gardens of God. Old Testament books presented in the divinely authorised order, as preserved in Hebrew Bibles. New Testament translated from the best-known available Greek text of Byzantine preservation, believed the most accurate record.
Expect outstanding clarity in God-honouring, refreshing, contemporary, and highly readable literary style. Attractive design and layout, with efficient narrative paragraphing for prose sections, indented lineation for poetry sections. Hebrew names and titles of God transliterated for their richness, with English equivalents in footnotes and a clear explanatory appendix. Over 4,300 footnotes with cross-references, sources, and explanations; eight appendices, illustrating the dynamic truth of the prophets and apostles of God and Christ.

About Ian Scott
Singer-guitarist and writer Ian Scott will be singing a 45min uplifting set of Christmas carols, gospel and mixed covers for us this Sunday. He'll also be talking about his faith and his book "The God Solution"
Typically Ian thrills audiences all around the UK with his superb double bill tribute to Neil Diamond and Tom Jones. Ian's magnificent voice re-creates the emotion, excitement and passion of Diamond and Jones's songs. Contact us if you would like to book him for your venue, party or event.
Relevant to this event, Ian is a Christian and has written about his beliefs under his real non-stage-name of Ian Stott. His biggest book is called "The God Solution – Are You Ready" available from Amazon HERE, and it will be available to purchase at this event.
Ian Stott was born in Moseley, Birmingham, in 1946 and became a travelling evangelist in 1986, with his Gospel band 'After the Fall' performing in prisons, remand homes, pubs, clubs, church halls, carnivals, fetes, festivals, handicapped homes and colleges all around the United Kingdom. After writing 'Touching Glory' as the title song for the 1994 Cross Rhythms Festival in Devon, Ian and the band received a record distribution deal with Kingsway Music. He wrote the songs for two more albums, and the band continued its evangelistic work for eleven years.
Ian has studied Bible Prophecy for thirty years and is now a full-time musician, working as a tribute act in the UK and worldwide. He has had songs and poems published during this period. Ian Stott is a layman, representing every man and brings a refreshing perspective to apologetics, with a dash of humour. He has a desire to reach people who know nothing about the Bible or what it contains. The God Solution – Are You Ready is a direct reply to militant atheism and The God Delusion by Richard Dawkins. The Book covers the evidence of God, secret societies, Bible prophecy and the deception, misinformation and corruption of the shadow governments and leading players of this world.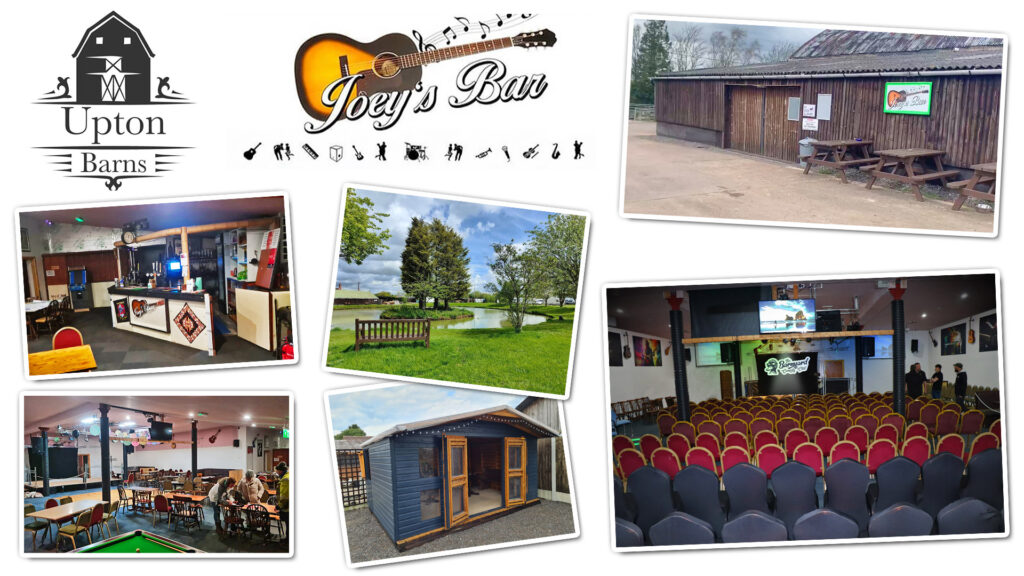 ---
Terms and Conditions
The ticket price does not include food and beverages
If this event is cancelled you will get a full refund if you bought the ticket on tickets.heart-events.co.uk
Bookings, once made, may not be exchanged nor money refunded. All ticket sales are final. SEE INFO
The management reserves the right to refuse admission, for example customers who arrive intoxicated will be refused entry without a refund.
We reserve the right to conduct bag and clothing searches. Anyone found attempting to bring alcohol or prohibited drugs into the buildings will also be refused entry without a refund.
Latecomers may not be admitted until a suitable break in the performance.
All tickets sold are unallocated seats in the venue. We recommend large groups to arrive early to get seats together and cannot guarantee seats together for groups or parties.
All customers are expected to treat the venue, staff and acts with due respect and good manners.
We reserve the right to eject any customers from the venue without a refund if they are disrupting any of the shows or performances and/or are deemed aggressive, either verbally or physically, to any of our staff, other customers, guests or performers.
The use of mobile phones is prohibited whilst a speaker or performer is on stage, that includes having it in your hand with the screen on (it distracts others from fully enjoying the event).