£12.00
This event has now ended. Thank you to all that attended, and big thanks to the venue staff and caterers. Look out for our 2024 speaking events.
During their thought provoking live talk, Clive will be sharing insights and solutions to some of the most pressing heath issues facing humanity today, including natural health solutions. There will also be an opportunity to ask Clive and Richard questions.
Out of stock
Clive de Carle – Natural Health Talk
WHAT: Clive de Carle is interviewed by Richard Vobes.
WHEN: Sunday the 15th Oct 2023.
WHERE: Upton Barn, Manor Farm, Near Nuneaton Warwickshire CV13 6JX
Details
The doors open and food is available from 1pm. The speaking event starts at 3pm and ends around 6pm, live music to 6.30pm.
Arrive early so that you can purchase and eat the delicious food, secure seats, mingle, network and breathe in the country air!
During their thought provoking talk, Clive and Richard will be sharing insights and solutions to some of the most pressing heath issues facing humanity today, including natural health solutions. There will also be an opportunity to ask Clive and Richard questions.
Enjoy a late afternoon of natural health discussion, music, delicious gourmet food and networking. The second session from 4.15pm will include a meet and greet with Clive and Richard from 5pm. Live music will be provided by Sammy G. This event is about natural health solutions with joyful and uplifting music and delicious gourmet food provided by La Maison Galante catering. There's a licensed bar inside the show hall and tea and coffee with milk alternatives will be available.
TICKETS are available to buy here online. If you prefer cash – use our contact form to ask us to reserve 'cash on the door' tickets for you.
Food – by La Maison Galante
Delicious and healthy cuisine will be available to purchase from 1pm, so arrive hungry! Helen and La Maison Galante's food truck "Marianne", modelled on a 1940's French Delivery Van is proud to serve a selection of their freshly homemade meals inspired by the delicious flavours of France. Full portions and half portions will be offered.
There'll be a select range of gourmet foods including french cuisine; meat, vegetarian and vegan options, organic salads and vegetables, sourdough bread, deli products and gluten free options. La Maison Galante's organic salads and other vegetables are grown on their smallholding at Netherwood Farm, and Helen relies heavily on other locally sourced products, including fresh meat from CCA Award Winning butcher, Paul Shum in Yoxhall.
The menu is expected to include Onion Soup, Ratatouille, Salade Niçoise, Salade Caprese, Boeuf Bourguignon (award winning beef), Steak Frites with Béarnaise sauce, La Maison Galante Gourmet Burger and Frites Provençale. La Maison Galante catering has a 5-star rating for food health and safety. See photos below.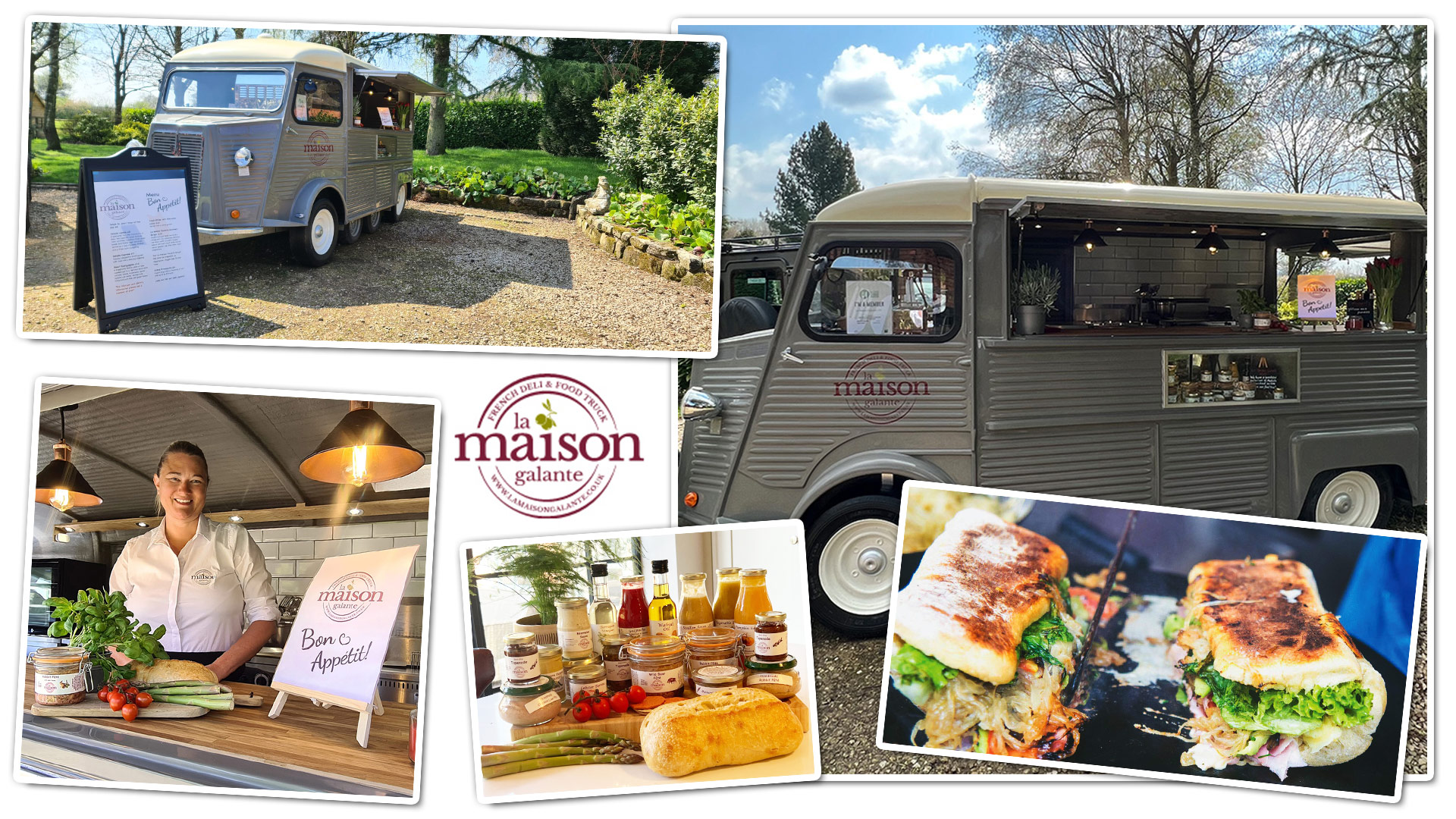 The venue
Upton Barn is a large converted barn and cow shed with a proper floor (no longer straw) a stage, tables, chairs and bar (Joey's Bar). It has a max capacity of 200 people inside and 8 billion outside. Free car park onsite. If you wish to stay over and enjoy the country air for longer, there's a caravan, campervan and tent site on the land adjacent. You can book pitches with or without electricity points direct with the Upton Barns Management (tel: 01455 212374 – answered 10.30am – 4.30pm) and arrive early to setup. There's also a few B&B rooms available. Pitch booking info and prices are on Upton Barn's website uptonbarn.co.uk.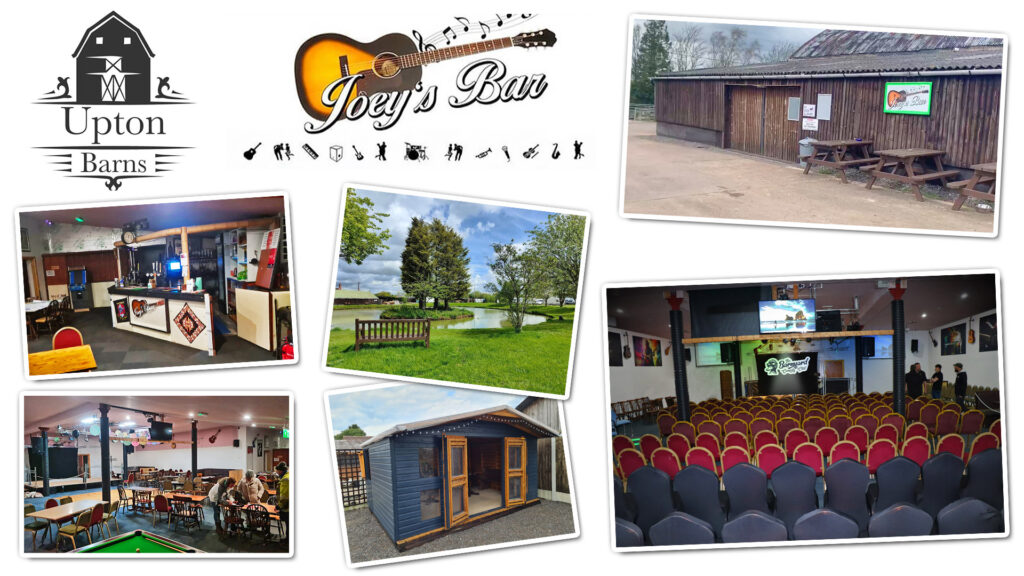 Richard Vobes
Richard Vobes joins us as interviewer and MC. Richard is famed for his YouTube monologues and interviews where he discusses joining the dots of what on earth is going on right now. Initially Richard made videos about his passion for exploring English heritage, landscape and nature. Over the last year or so Richard's YouTube channel really took off, soon rocketing to over 30 million views of his very clever, witty and gentle monologues and interviews.
About Clive – his words
"I have always been interested in natural health but my journey into health mastery really began at the age of 32 when I was hit by an entirely unexpected health emergency. At the time I was right at the peak of my success as an entrepreneur in the field of ophthalmic optics and neuro-surgery, having founded both the UK's largest contact lens company and a pioneering high-tech neuro-surgical and ophthalmic instrument equipment company. However, following a course of antibiotics prescribed for a minor health condition, I suddenly found myself hospitalised and in a critical state after a major reaction to the drug.
Despite being fit and healthy, the antibiotic sent my body into extreme shock, resulting in Type 1 diabetes and crippling arthritis. Before I knew it, I could barely walk and soon holding a cup of tea or doing up buttons became impossible. I was hospitalised for weeks and the doctors told me there was no hope of a cure. My future looked bleak.
However, I refused to accept the doctor's verdict and determined to prove them wrong. I had already thrown myself into independent research using natural remedies and I decided to check myself out of the hospital and commenced a program of nutritional supplementation which completely reversed all the symptoms of arthritis. The doctors were astounded yet disinterested in how I had actually done it.
My recovery triggered a new thirst for knowledge. I developed a burning desire to find out what further hidden cures for disease might exist that could benefit humanity. I decided an important step would be to deepen my understanding of nutrition and I moved to Andalucia in Spain, purchased an organic farm and set about deepening my understanding of old plant varieties and our ancestor's gardening techniques along with the relationship between soil conditions, nutrient levels and health.
As I am sure you know, due to modern industrial farming methods our soils worldwide are woefully deficient in minerals and, so are we, if we eat food grown on those depleted soils. So as most people simply can't get enough nutrients from their food, supplementation is a vital and a major key to reversing symptoms of disease by restarting the body's innate ability to self repair.
After I left ophthalmic optics in the 1980's, one of the companies I founded went on to become the UK's largest supplier of contact lenses. We made Boot's contact lenses and made lenses for many of the majors and the company is now owned by Johnson and Johnson. I also ran a lie detector company and imported rare cars from Japan, appearing on Top Gear with Jeremy Clarkson in 1993. I then switched to focussing solely on health.
Today, over 30 years since my recovery I have been lucky enough to have advised thousands of clients and I am more convinced than ever that most disease can be primarily explained as nutrient deficiency and toxicity. I have also been privileged enough to have met, interviewed and worked with many of the leading lights in the health world, from whom I learned so many miraculous solutions to the health issues of today.
This includes not just nutritional remedies but ranges from peptide therapy to bio-resonance devices, PEMF, diathermy, advanced diagnostics and many more exciting vanguard discoveries with the potential to revolutionise our expectations for humanity and health."
---
Terms and Conditions
The ticket price does not include food and beverages
If this event is cancelled you will get a full refund if you bought the ticket on tickets.heart-events.co.uk
Bookings, once made, may not be exchanged nor money refunded. All ticket sales are final. SEE INFO
The management reserves the right to refuse admission, for example customers who arrive intoxicated will be refused entry without a refund.
We reserve the right to conduct bag and clothing searches. Anyone found attempting to bring alcohol or prohibited drugs into the buildings will also be refused entry without a refund.
Latecomers may not be admitted until a suitable break in the performance.
All tickets sold are unallocated seats in the venue. We recommend large groups to arrive early to get seats together and cannot guarantee seats together for groups or parties.
All customers are expected to treat the venue, staff and acts with due respect and good manners.
We reserve the right to eject any customers from the venue without a refund if they are disrupting any of the shows or performances and/or are deemed aggressive, either verbally or physically, to any of our staff, other customers, guests or performers.
The use of mobile phones is prohibited whilst an act is performing, that includes having it in your hand with the screen on (it distracts others from fully enjoying the show).